Le château de Lartigolle offre un cadre idéal pour accueillir vos événements. Le rôle de notre équipe est de faire en sorte que vous puissiez profiter de vos convives en toute sérénité.
"Le lieu est idéal pour un mariage, un service haut de gamme, une cuisine de qualité & un atmosphère de rêve!! Toutes l'équipe est aux petits soins, les chambre sont magnifiques, nous recommandons chaleureusement ce petit coin de paradis."
Olive et Thomas
Trouver le lieu adapté à votre projet peut se révéler complexe. L'une des frustrations les plus courantes est le manque d'informations fournies. Nous aimons donner un maximum d'informations, vous permettant de prendre une décision éclairée le plus tôt possible dans votre recherche.
Voici ce qui fait de Lartigolle un lieu unique.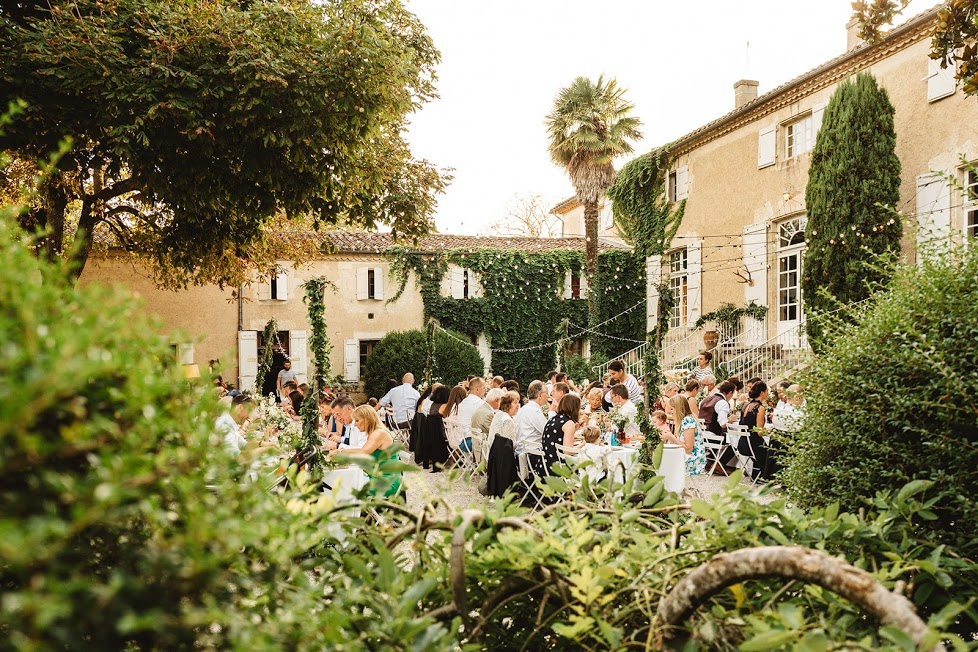 "L'équipe était à la fois super cool et ultra professionnelle,ils étaient aux petits soins pour nous tout au long du weekend!! Félicitations pour la cuisine qui était vraiment délicieuse et servie au bon timing à température parfaite pour tout le monde (et oui nous étions une centaine adultes et enfants compris). Bref, tout le monde a été conquis!!." Stephanie et Francois
À l'inverse d'autres lieux nous avons la chance d'avoir une équipe permanente qui regroupe l'ensemble des compétences nécessaires à notre activité et à vos besoins. Elle est constituée de coordinateurs d'évènements, de stylistes, d'une chef de cuisine, d'une brigade de service ainsi que de chargés de maintenance. Cela fait maintenant plusieurs années que nos collaborateurs sont avec nous et ils contribuent à rendre chaque évènement unique.
Pour vous, cela garantit que chaque événement réalisé à Lartigolle, dont vous aurez pu voir des photos ou vidéos, a été produit par les mêmes personnes – vous savez exactement ce que vous obtenez et qui réalisera la prestation.  Il n'y a pas beaucoup de lieux qui peuvent le prétendre. 
Avec plus de 180 mariages à notre actif nous avons perfectionné notre savoir faire afin de répondre à toutes vos attentes et à tous vos besoins. Afin de profiter de la richesse des produits du terroir nous avons opté pour un style de restauration unique et convivial. Nous aimons préparer de grandes tablées pour déguster un vrai festin.
Nous n'imposons pas de "formule" d'événement ou de mariage type mais avec notre expérience et notre style nous sommes en mesure de vous proposer ce qui fonctionne le mieux dans cet incroyable environnement qu'est Lartigolle. Une touche Anglaise au cœur d'un château Gascon et une attention toute particulière aux détails et au confort en font un lieu chaleureux et inégalable.
Le château accueille généralement de 30 à 100 personnes mais peut confortablement recevoir 120 personnes, que ce soit dans la cour ou dans la cave voûtée du château. Le grand salon peut quant à lui accueillir un repas pour 50 personnes, la cave de 30 mètres à une capacité de plus de 100 personnes.
Dans un souci de sécurité nous préférons limiter le nombre d'enfants par évènement car le château n'est pas adapté aux plus petits. 
Nous pouvons accueillir jusqu'à 28 personnes dans les 12 chambres, réparties entre le château et son aile. Pour les mariages, nous demandons un séjour minimum de 3 nuits. Les jours supplémentaires au-delà du minimum de 3 nuits vous seront proposés à un tarif réduit.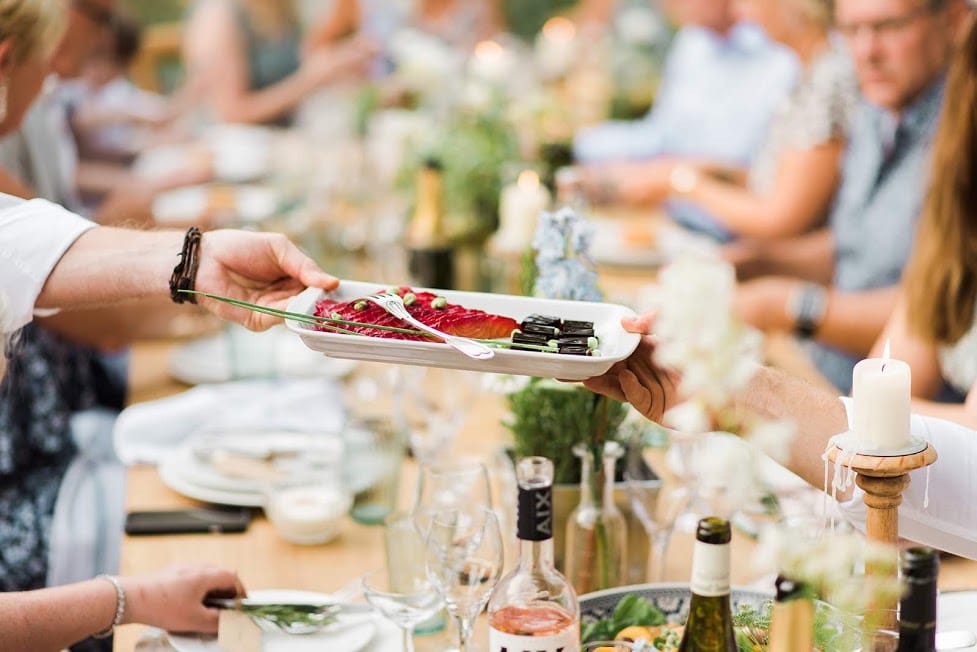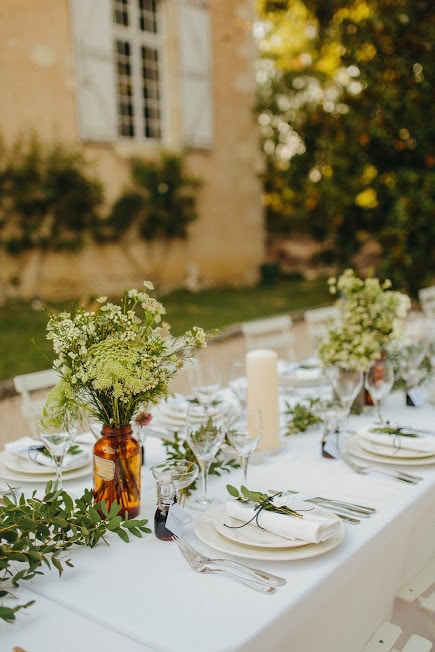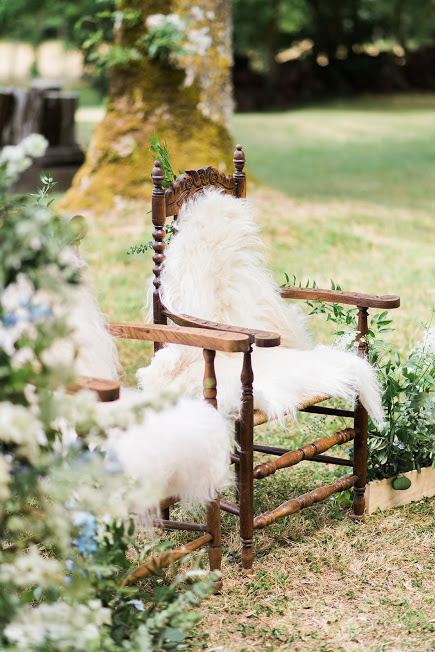 Organiser votre évènement
"Voila, 1 an après notre mariage au château de Lartigolle, je prends finalement le temps d'écrire cette revue. Et 1 an après, le recul en plus, nous nous rendons compte de l'incroyable expérience que nous avons vécu au château pour la préparation de notre mariage. Tout a été parfait du début a la fin. L'équipe, tous plus gentils et attentionnés les uns que les autres, nous ont permis de réaliser exactement le mariage que nous souhaitions! Même un an plus tard, nous recevons encore de nombreux compliments de nos familles et amis.." Maxime et Holly
Lorsque vous réservez une prestation, vous serez mis en contact avec un membre de notre équipe qui sera votre coordinateur dédié. Il vous accompagnera en amont de l'événement pour déterminer vos besoins et convenir ensemble de tous les détails. 
Ses services comprennent également la coordination entre les prestataires externes et le château ainsi que toute la logistique interne (traiteur, musique, fleurs, coiffure, maquillage, transport etc….). Il s'assurera que tout ce que vous avez demandé soit enregistré et validé dans votre plan personnalisé et réalisé. Il garantira le bon déroulé de l'évènement jusqu'à la fin de celui-ci. 
Toute notre équipe se concentrera sur le déroulé de votre évènement lors de nos réunions de coordination hebdomadaires. Ensemble, nous discutons de toutes vos exigences et déterminons la meilleure façon de concrètiser chaque détail de votre événement. Pour nous, chaque prestation est une responsabilité d'équipe, et cette approche fonctionne depuis de nombreuses années.
Nous vous encourageons à lire les avis laissés sur Tripadvisor par nos clients et leurs invités. Nous sommes fiers d'avoir reçu uniquement des avis 5 étoiles. Ce sont eux qui décrivent le mieux l'expérience Lartigolle. Vous pouvez les trouver en cliquant sur l'onglet Tripadvisor ci-dessous.
Votre plan personnalisé.
Grâce à cet outil perfectionné au cours de nombreuses années d'expérience, nous sommes en mesure de vous proposer une prestation pensée dans les moindres détails et de vous éviter le moindre stress.
Nous vous invitons à explorer notre plan personnalisé sur mesure en cliquant sur l'image du plan à droite.
La Sainte Trinité – décoration, fleurs et traiteur.
"Lartigolle est un endroit unique!! Les 4 jours passés en famille et avec des amis pour fêter notre mariage sont inoubliables! Le cadre est enchanteur, le château est décoré avec raffinement, goût du détail et du confort chic" Laoura et Josta
Décoration et fleurs
À Lartigolle nous avons la particularité de compter des stylistes et fleuristes au sein de notre équipe qui offrent un service du conseil à la réalisation de votre événement. Ils sauront vous guider vers les différents choix possibles en prenant en compte les critères tels que la saisonnalité, les tendances et la disponibilité des produits.
Nous fournissons un service dédié, en prenant le temps de comprendre vos goûts personnels et de créer la toile de fond parfaite pour cette occasion. Nous avons constitué une grande réserve d'accessoires de décoration à laquelle nous vous donnons accès sans frais supplémentaires. Vous pourrez y trouver une variété de vases, bougeoirs, miroirs et lumières. 
Nous restons conscients des tendances actuelles et chaque année, nous passons l'hiver à parcourir les marchés et les brocantes pour trouver de nouveaux articles à ajouter à notre collection.
Traiteur
La Gascogne a une réputation bien méritée pour la qualité de ses produits que notre cuisine met en valeur. Nous privilégions les producteurs qui nous entourent. Nous avons créé une sélection de savoureux menus de fête que nous adaptons à vos besoins spécifiques.
Nous proposons une carte de petits-fours, entrées, plats et desserts pour tous les goûts: plateau de fruits de mer, rôtis à la broche, magret au Pimm's, un choix de viande cuites à basse température etc… Pour une ambiance plus champêtre, nous suggérons aussi des poulets rôtis à la broche cuits sur place. Nous sommes au cœur de la région du canard et de l'armagnac et nous sommes heureux de proposer des menus mettant en valeur ces produits locaux tels que le foie gras et le confit.
Nous proposons une variété de vins français. Les vins du Sud-Ouest gagnent en popularité, en particulier les rouges. Nous sommes également en mesure de trouver de merveilleux vins biologiques locaux.
Télécharger nos Menus 2022
Notre service intégré d'évènementiel
Nous ne proposons pas de "formule standard"car chaque évènement est différent. C'est pourquoi nous élaborons un devis personnalisé adapté à votre demande.
Nous nous efforçons de fournir des devis prenant en compte toutes les charges afin d'être le plus précis possible dans l'élaboration de votre budget.
Nos nombreuses années d'expérience nous permettent de vous orienter dans vos dépenses. N'hésitez pas à nous faire part de vos incertitudes, nous sommes en mesure de vous suggérer différentes options qui conviendront à vos moyens.
Voici un résumé de ce qui est inclus dans votre devis initial:
2 ou 3 nuits d'hébergement pour 28 personnes sur place. Une quatrième nuit est possible à un tarif réduit.

 

Un coordinateur événementiel dédié qui travaillera avec vous sur tous les aspects de votre événement de la réservation jusqu'à la livraison.

 

Pour les mariages, le devis inclut un séjour préparatoire d'une nuit pour les futurs mariés, une séance de dégustation des mets et vins.

Privatisation du château pour la durée de votre séjour, y compris l'utilisation de toutes les installations telles que la piscine et le court de tennis.

 

La mise à disposition des chaises, des tables, de la vaisselle, des éléments de décoration, luminaires et bougies de Lartigolle.

Un budget pour la location de verres et de nappes auprès de nos fournisseurs.

 

Un service de restauration pour les résidents.

 

Un estimation pour les boissons tout au long de l'évènement.

 

Une estimation pour l'achat de fleurs et décorations.

 

Un budget alloué pour un prestataire musical. Cela inclut l'utilisation de notre matériel de sonorisation et d'éclairage.

 

Les frais de personnel

 

Toutes taxes incluses
Visitez notre compte Instagram.
Explorez notre galerie de photos
OU NOUS TROUVER
Via GPS Lat: 43.611634 Long: 0.683041
Google map link: Chateau de Lartigolle
Address: Chateau de Lartigolle, 32550 Pessan, France
Print or download these instructions: Get directions



Driving from Blagnac airport, Toulouse
From Toulouse airport follow the sign towards Toulouse. After about 1km you will see your first sign for Auch. Keep following the signs for Auch. This will take you off the Toulouse ring road and on to the N124.
Follow the N124 out of Toulouse for 50kms, past Colomiers, Leguevin, past l'Isle Jourdain and through the town of Gimont.
New bypass coming soon
There will be a new bypass around Gimont which is due to open at some point in 2021, we are not sure exactly when but you should look out for this as you approach the town of Gimont. If you enter the town you will have missed it. If you do find yourself on it then you should look out for the exit to Samatan, Saramon or Pessan. This will put you half way down the D12 and you can then follow the directions below from the point we have marked with this symbol (>).
If the bypass in not open then go through Gimont town and just as you leave  you will come to a roundabout; take the third exit in the direction of Saramon on the D12.
(>) Follow the D12 for 10kms (or 5kms if exiting the new bypass) and you will come to another roundabout with signs for Samatan (left), Saramon (straight on) and Pessan and Auch (right) - take the Pessan/Auch exit on to the D349.
After following the D349 for about 7kms you drive straight past the Aubiet/Castelnau Barbarens crossroad and continue on this road. Ignore another turning to Castelnau Barbarens on your left and keep on the same road, bearing round to the right. You will then pass, about 50 metres from the road on your right, a white water tower with aerials on the top. You are now on the D626.
After a further 1km you will see a turning to the left. Take the left turn. This is the corner of our property, on your left you will see an open field, on the right a bank topped with trees. After 100 metres on the right is a set of large white gates on a pair of sandstone pillars. This is the main entrance to the chateau.
Drive through the gates and follow the avenue of ancient oaks past the vineyard and orchard on the right, and the tennis court with views of the pool and the valley beyond on your left. The avenue takes a left turn and the chateau is directly ahead.

Local airports
There are a number of carriers that fly to the region from all over the UK. Listed below are the most convenient airports that have regular flights, with approximate travelling times from each:
Blagnac airport, Toulouse - 50 minutes - served by BA, easyJet and Ryanair

Carcassonne airport - 1 hr 50 mins - served by Ryanair

Tarbes/Lourdes airport - 1 hr 50 mins - served by Ryanair
Bergerac airport - 2 hrs - served by Ryanair, Jet 2 and BA
Bordeaux airport - 2.5 hrs - served by Ryanair and easyJet
We recommend that you hire a car from your airport. Taxis are expensive, car hire represents much better value. The roads are great and it is easy to find us.

Travelling by train
If you have a little more time to enjoy your journey you might consider taking the Eurostar from Kings Cross to Paris, then catch a train from Paris to Toulouse, this should take about 4.5 hours.
Once you get to Toulouse you can then take a local train to Auch, which is the closest station to us. That will take about an hour and then it is a 15 minute taxi ride to Chateau de Lartigolle.
Have a safe trip and we look forward to meeting you here very soon.
HEBERGEMENTS A PROXIMITE
Below are some of the local hotels we use for the overflow of wedding guests during the wedding season, or for couples visiting duringour closed season.
Domaine de Baulieu – 12 mins from the chateau
This lovely four star hotel with modern air-conditioned bedrooms, a swimming pool, sauna and restaurant with views of the surrounding countryside. Very reasonable rates, and close. It's a perfect spot for guests. They are very popular in the summer as they host lots of local weddings so best to contact them early if you want to be sure to secure rooms for your guests.
Contact: Karen (English speaking)
Tel: +33 (0)9 51 23 04 65
Email: contact@ledomainedebaulieu.com
Website: www.ledomainedebaulieu.com
Hôtel de France, central Auch – 20 minutes from the chateau
A great location as it is right in the heart of Auch, our local town. It is a lovely old building in the main square, close to the Cathedral and near all the main bars and restaurants. The building is in the process of a long refurbishment so not all rooms are of the same standard but the location is a real benefit.
Tel: +33 (0)5 62 61 71 71
Website: www.hoteldefrance-auch.com
Hôtel Campanile – 12 mins from the chateau
This chain hotel has been recently refurbished with new beds, decor and furnishings. It is on the outskirts of Auch so has good access from main route. There is not much around within walking distance, however it is very good value so well worth thinking about for more budget conscious guests.
Tel: +33 (0)5 62 63 63 05
Email: auch@campanile.fr
Website: www.campanile.fr
A VOIR, A FAIRE DANS LES ENVIRONS
Below are some of our preferred restaurants and places to visit in the area. These are taken from an edited version of a larger document we have put together as a guide to all we have in the area for guests staying at the Château. Just ask if you wish for a copy of the full list.
Visit our favourite local restaurant
Auberge du Rantaures, Lussan - 10 minutes - Cash or euro cheque only. NO CREDIT CARDS
This is a lovely family run, regional restaurant in a little village in the hills above the chateau. Chef Lionel cooks on an open fire in the restaurant and all the great quality meat is sourced locally. Open Wednesday to Saturday evenings. Very reasonably priced.
Reservations essential : 05 62 65 52 04
Other restaurants
Café Brasserie Le France, Auch - next to the cathedral – 20 minutes
Popular cafe located right in the heart of the old town with good tasty food. Great steaks, good salads, omelettes and everything you would expect. Seats outside and in. No bookings usually needed, just turn up.
Brasserie Daroles – Auch, near the cathedral – 20 minutes
A typical French brasserie, well located as it is situated near the cathedral. Consistenly reliable standard of French classics. Free parking in the nearby car park.
Reservations: 05 62 05 00 51
Le Parc à Huîtres, Auch – 20 mins
If you like seafood then this is the place for you.  A contemporary modern interior. If only you had the views of the sea you would think you are on the west coast! Really great fish, very simple but always totally fresh. Lovely for lunch. Closed Mondays.
Reservations: 05 62 70 07 40
Local markets
Auch, our nearest town, has great markets on Thursday mornings (at the bottom of town) and Saturday mornings outside the cathedral. French markets are always worth a visit, why not stay for a spot of lunch while you are at it.
Things to do with kids
Quad Biking – 20 mins
We have a fantastic Quad Biking range nearby. You are given a tour with an instructor through vineyards, forests, farms and hills. Great views and great fun. Under eights can go with a parent or instructor.
Reservations: 05 62 05 19 44 or 06 03 85 16 59
www.quadconcept.com
Le Vert en l'air – 15 mins
Suitable for children six and older. This is the Forest in the Air, where they have tree top adventure circuits of varying difficulty (with safety harnesses) – Great fun for young and old.
Reservations: 05 62 05 26 78 or mobile 06 85 59 86 70
www.levertenlair.com
Space Museum, Cité de l'Espace, Toulouse – 60 mins
This is great for a rainy day, or a sunny one. They have a huge exhibition space with real space rockets, capsules and a six storey screen planetarium. They have constantly changing exhibitions so check their website.
Reservations: 05 67 22 23 24
www.cite-espace.com
REMERCIEMENTS ET CRÉDITS
The image-makers
We have been fortunate to have had some of the world's best wedding photographers and videographers come to the chateau to capture it in all it's glory. Many of the images on this website are down to them, and without these talented people, we would never be able to show everyone what it is we do here. So we would like to thank those whose work we have used in this website and encourage you to visit their websites and commission them when you can. Just click on their names to visit their own websites.
DAREK SMIETANA - Darek is a huge Lartigolle favourite, lives locally and has covered a some of our recent weddings. He has a great style, captures all the details and is a joy to work with.
NIGEL JOHN - Also a favourite at lartigolle , Nigel's unique style and approach means his work stands out and is instantly recognisable.
PETAR JURICA - Has been a regular at Lartigolle for a number of years and always creates memorable images.
ARTUR LOBADA (BODART)  - Another regular at Lartigolle, always effortless to work with and comes up with winning images that capture the day so well.
THIS MODERN LOVE - Tim has been back to Lartigolle a number of times over the last few years and always captures everything beautifully.
The video makers
ANDREW KELLY - Now a firm favourite at Lartigolle, we orginallymet Andrew through Darek, the photogrpaher. Together they are the dream team. Andrew shoots in super 8 and digital. His work is unique and evocative.
GIONE AND HANNAH DE SILVA - They have shot a couple of weddings here and produce some beautiful work. Very good to work with so we hope to see them again. A husband and wife team providing video and still images.
BEN WALTON - Ben has created some very beautifiul films at Lartigolle. He is a pleasure to work with and always does a great job.
The website maker
SARAH AUSTIN - Special thanks must go to Sarah for her technical and web marketing skills and for always being on the end of a phone to help us produce our wonderful new website - she is a superstar.
The music maker
ANDY CATO - Andy, co-founder of Groove Armada, kindly edited one of his tracks for us to use on our drone film.
MENTIONS LÉGALES
URL: lartigolle.com
Company, organization: SARL CHATEAU DE LARTIGOLLE
Registered Offices:
Chateau de Lartigolle, 32550, Pessan, FRANCE
Contact: info@lartigolle.com
Share capital: 7 500 euros
RCS (Companies register) Auch 453 447 658 APE 552 E
EU VAT number: FR48453447658
Purpose of site: Promotion of the establishment
Director of publication, legal representative: Mr. Nick Austin
Editorial Manager: Mr. Nick Austin
Web master, design, editing, artistic direction: Mr Nick Austin
Photography: Various - see 'Thanks and Credits'
Web hosting: Vivid websites - www.vividwebsites.co.uk
The site presents:
● Informative content
● A collection of personal data on line
French Data Protection Act: the site is the subject of a declaration to the Commission Nationale Informatique and Liberté (French Data Protection Authority). You have the right to access, modify, rectify and delete information that concerns you (art. 34 of the Loi Informatique et Libertés (French Data Protection Act)). To exercise this right, please contact:info@lartigolle.com
Conformément aux dispositions légales et règlementaires applicables, en particulier la loi n° 78-17 du 6 janvier 1978 modifiée relative à l'informatique, aux fichiers et aux libertés et du règlement européen n°2016/679/UE du 27 avril 2016 (applicable dès le 25 mai 2018), le client bénéficie d'un droit d'accès, de rectification, de portabilité et d'effacement de ses données ou encore de limitation du traitement. Il peut également, pour des motifs légitimes, s'opposer au traitement des données la concernant.
Le client peut, sous réserve de la production d'un justificatif d'identité valide, exercer ses droits en contactant le responsable de traitement Monsieur Nicholas AUSTIN à l'adresse suivante : info@lartigolle.com
Ownership: The site and the information that it contains are protected by French intellectual property law and by international agreements. Except for use by immediate family members or private use, the site and any element of its content may not be reproduced, republished, retranscribed, modified or passed on without the prior authorization of the eligible party.